Aviation or airband radios are primarily used by pilots, Air Traffic Control and Ground Control as a means of two-way communication and navigation. Airband radios use VHF frequencies and channels different to those channels that are used on the ground, as they are specifically set aside for use in avionic environments. We support the Aviation industry with our best airband radio solutions, for both air-to-air communications and air-to-ground communications, including handheld and mounted systems and radio systems for on-ground support vehicles.
Airband radio channels are divided into two categories: COM channels for voice communication and NAV channels for navigation. The NAV channels are still in use for VOR (VHF Omni-directional Range) systems even though GPS is now widely used. A VOR system is a type of short-range radio navigation system for aircraft, enabling aircraft with a receiving unit to determine their position and stay on course by receiving signals from network of fixed ground radio beacons.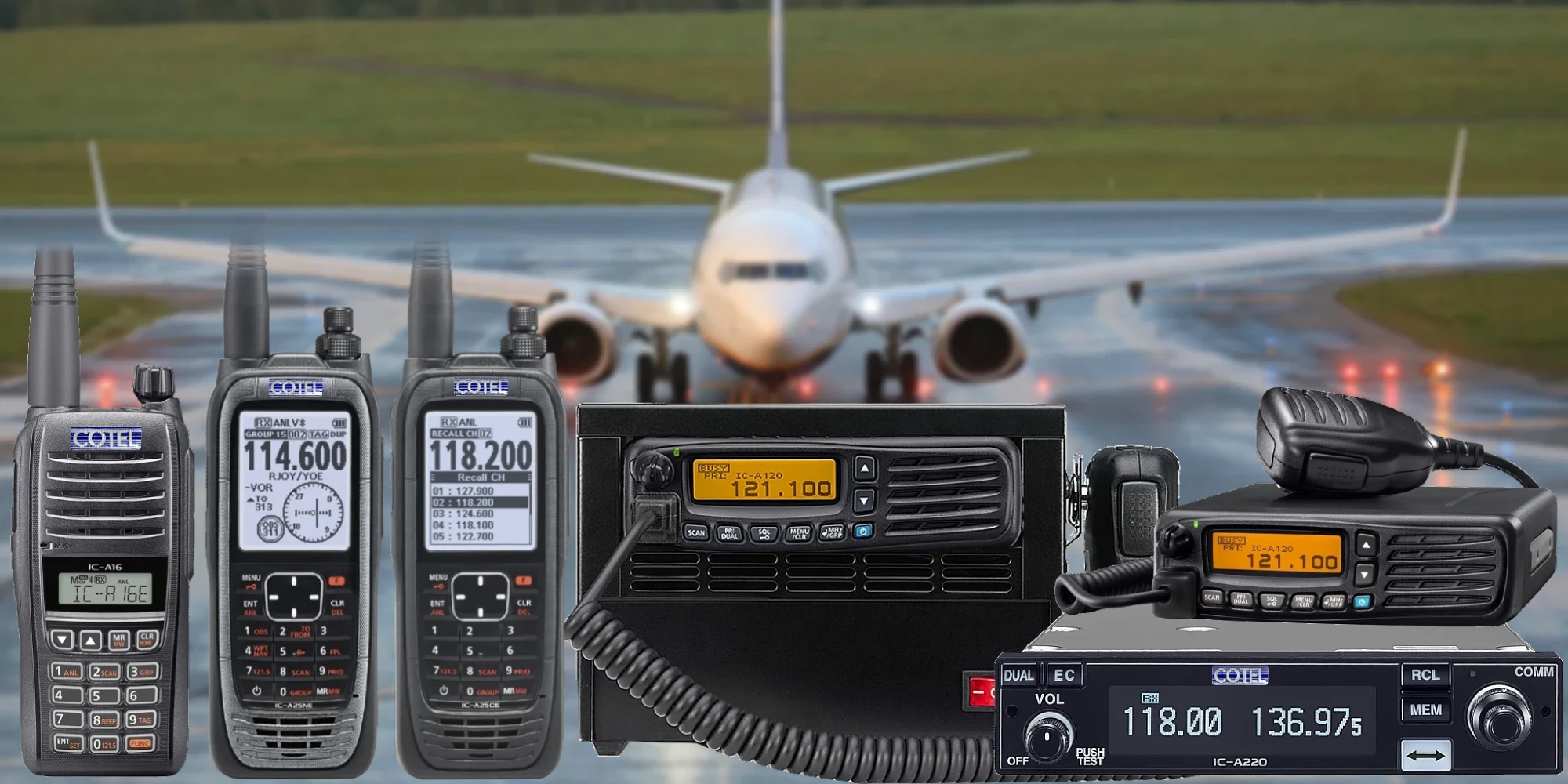 Airband radios provided by Cotel are high quality, reliable systems packed with features. All of our airband solutions are equipped with clear and powerful audio, intuitive interfaces, support for many channels, emergency IAD (International Air Distress) functions and more. There are several types of airband radios, including Hand Units, Panel Mount and Ground Station radios, all of which are provided by Cotel.

Please refer to our Airband Radio page or leaflets for details on the different types of radio.
A SMALL SAMPLE OF Cotel SITEMASTER EQUIPMENT SUPPLIED TO THE AVIATION INDUSTRY.
LEAFLETS
For a series of leaflets documenting our product range, see the Leaflets page.
CONTACT Cotel FOR PREFERENTIAL SYSTEM RENTAL RATES (INCLUSIVE OF INSTALLATION & MAINTENANCE), UPGRADES, INFORMATION, ADVICE AND GUIDANCE.